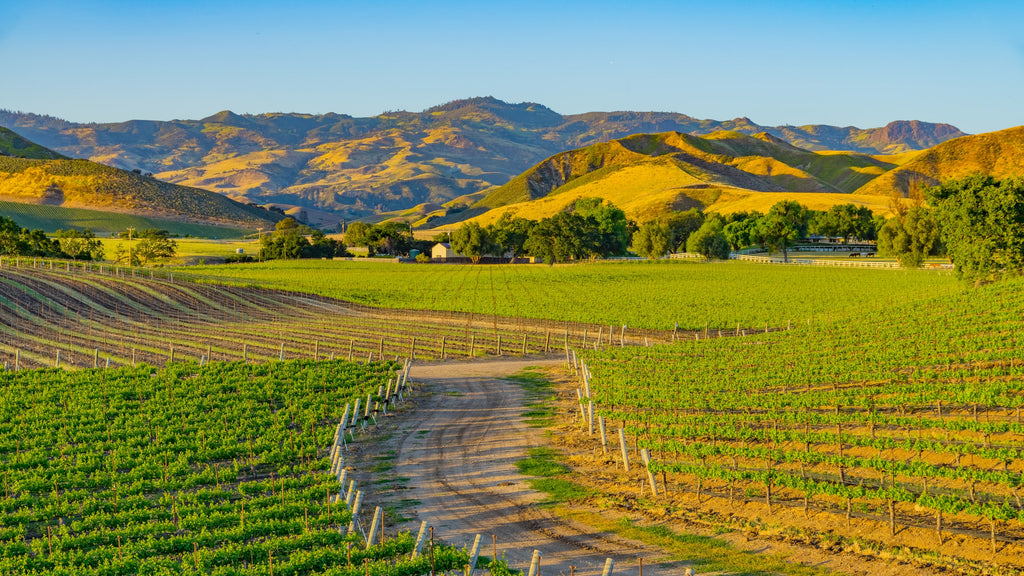 Come for the wine, stay for the 'cue.

Ron and Patty Thomas/Getty

The Santa Ynez Valley is most widely known as the backdrop for the cult classic film Sideways, but writing it off as a Hollywood road trip would be a great disservice. Much like the wines grown in the region, there's a real depth and character to this historic part of the Central Coast worth exploring and revisiting often.

The area is home to the native Chumash tribe, who recognized the bounty of the land, characterized by undulating hills, gnarled oak trees, and electric fields of wildflowers. Following the arrival of Spanish and Danish colonies, ranching and generational viticulture took hold in this corner of Santa Barbara County, and over time the Valley became a vortex for creative energy in winemaking and beyond. 

Angelenos have been lured by this slower way of living, like boulanger Bob Oswaks, a Hollywood studio executive who traded in his corner office for sourdough starter, launching Bob's Well Bread, which recently opened a second cafe in the town of Ballard. Similarly, Daisy and Greg Ryan escaped the frenzy of the New York City restaurant scene to open their critically acclaimed restaurant Bell's in Los Alamos, gaining an army of evangelists from both wine country and further afield when they did.

There are young, minimal intervention winemakers taking a crack at it, too, and smart hoteliers creating weekender-worthy hotels. Not to mention the barbecued tri-tip for which the area is known. Is the valley calling to you, too? If not, it will be soon. Here's how to make the most of your stay in this magical corner of California.

Solvang is recognizable for its Danish-style architecture.

bennymarty/Getty

Getting to and around the Santa Ynez Valley

Santa Ynez Valley encompasses six communities clustered together like the Syrah grapes the area grows in abundance: Los Olivos, Santa Ynez, Los Alamos, Buellton, and Solvang, plus the emerging Ballard area. Each town has a definitive kitsch and character, and while they're close to each other as the crow flies, we recommend getting around by car where you can. (If you want to taste wine, and you should if that's your thing, it's better to hire a driver.)

You can also cycle through the vineyards with Santa Barbara Wine Country Cycling Tours. And if you want to dedicate an entire weekend to just one of the towns, without going anywhere else, that's doable. Los Alamos, Los Olivos and Solvang are the most developed of the bunch for getting around on foot.

Figueroa Mountain

nik wheeler/Getty

What to Do in the Santa Ynez Valley

The obvious answer for what to do is: Try the wine. If you want to keep things centralized, spend a day sampling around the quaint town of Los Olivos, where tasting rooms like Holus Bolus, Solminer, Story of Soil, and Storm are within stumbling distance of each other. To get out to the bucolic estates along the 30-mile stretch of Foxen Canyon Wine Trail, you'll want to hire a driver or tour operator. Be sure to call in for reservations, as regulations on tasting rooms and tastings are constantly updating, according to county guidelines and restrictions.

To get a little physical activity in, hike up to the waterfalls at Nojoqui Falls, or explore the caves at Gaviota Wind Tunnel. If you're looking for a longer loop and want to make a day of it, check out the nine-plus miles of trails at Figueroa Mountain.

For something more relaxed, pack up a leisurely picnic of local cheeses and charcuterie from El Rancho Market in Santa Ynez, and enjoy lunch among the oaks at Hans Christian Anderson Park.

Bell's

Carter Hiyama/Datsu Films, Courtesy Bell's

What to Eat in the Santa Ynez Valley

As is the case in most wine regions, there's no shortage of excellent food in the area. If you want to get a taste of Santa Maria-style wood-fired cooking originally crafted by the vaqueros, head up to Woody's BBQ, or if you're lucky enough to land on a weekend where Bell's is hosting the Priedite pop-up on their back lot, good on you.

There are excellent wood fired pizzas at Industrial Eats, and while you're in that part of Buellton, make sure to book a tasting with natural wine whiz kid Scotty Boy Wines. Then, do as the winemakers do and knock off with a pint at Figueroa Mountain Brewing.

A trip to this region wouldn't be complete without a Sideways-style visit to Hitching Post 2, which also has a fabulous wine tasting room. Before you leave town be sure to pick up a batch of English muffins, and anything else that looks good on the menu at Bob's Well Bread.

In the coming months, the Bell's crew is partnering up with Fishing With Dynamite's Brad Matthews to open Bar Le Cote, a seafood-centered tavern in Los Olivos sure to be one of the toughest tables to snag.

The Landsby

Courtesy The Landsby

Where to Stay in the Santa Ynez Valley

If you're looking to make Los Alamos your home base and spend your weekend perusing the local tasting rooms, antique shops, and restaurants, the ultra-hip Skyview—essentially the Ace Palm Springs for Central Coast wine country—is the spot.

The team behind that motel has also taken on the Hotel Ynez, a charming spot with a bocce ball court, pool, and fire pits, where each room has its own macrame hammock. Bonus: they offer Weber grills for DIY BBQ in case you can't make it all the way up to Woody's.

The Landsby, in the Danish town of Solvang, is also an excellent option for a modern Nordic vibe within walking distance to the area's famous aebleskivers, the incredible, fresh baked Danish answer to the donut hole. Or, if you're aching for a taste of the Old West (and the flapjacks that come along with it) book in at Alisal, and don't miss out on the morning horseback riding, complete with a pancake breakfast at the end.