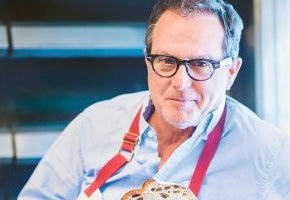 You would not expect to find an incredible artisan bakery which also serves popular word-of-mouth breakfast and lunch (extraordinary sandwiches) in the small town of Los Alamos in the heart of Santa Ynez wine country located just off the 101 Freeway. Bob's Well Bread Bakery and Café delightfully defies expectations.
Unusually there are two cottages ("The Cottages") available for guests on the Bob's Well Bread property.
"Bob's Well Bread was started by an entertainment executive-turned-baker who was looking for some balance in his life, and found a passion and a new calling that was both delightful and unexpected.  "When you make something naturally, and with your hands, there's a magic to it.  If you're eating a loaf of our bread, or drinking a bottle of our local wine, and you know that someone put in the time to make it by hand, there is just this personal connection.  It may not change the way it tastes, but it changes your experience, and that is what everyone wants—the experience."
"Bob and Jane Oswaks designed Bob's Well Bread out of an old 1920's gas station historic Los Alamos, opening their doors on August 1,2014.  They pride themselves on the finest ingredients, sourced locally and seasonally, in all of their products, including Jane's house made jams, marmalades, marshmallows and gluten-free specialties."  

"Using natural fermentation for yeast and allowing the dough to rise slowly, Bob's Well Bread makes artisan breads by hand in small batches, in a custom-built stone deck oven."
The Café Menu (Breakfast & Lunch changes regularly. The word-of-mouth sandwiches are amply portioned and served on the fresh, house-bakedbreads. Sandwich nirvana…
Bob's has grown over the last four years to the point that there is now both a dedicated baker and chef in-house overseen by Bob.
We're on the rise with Proprietor/ Boulanger Bob Oswaks.
Pod cast is available on blog.