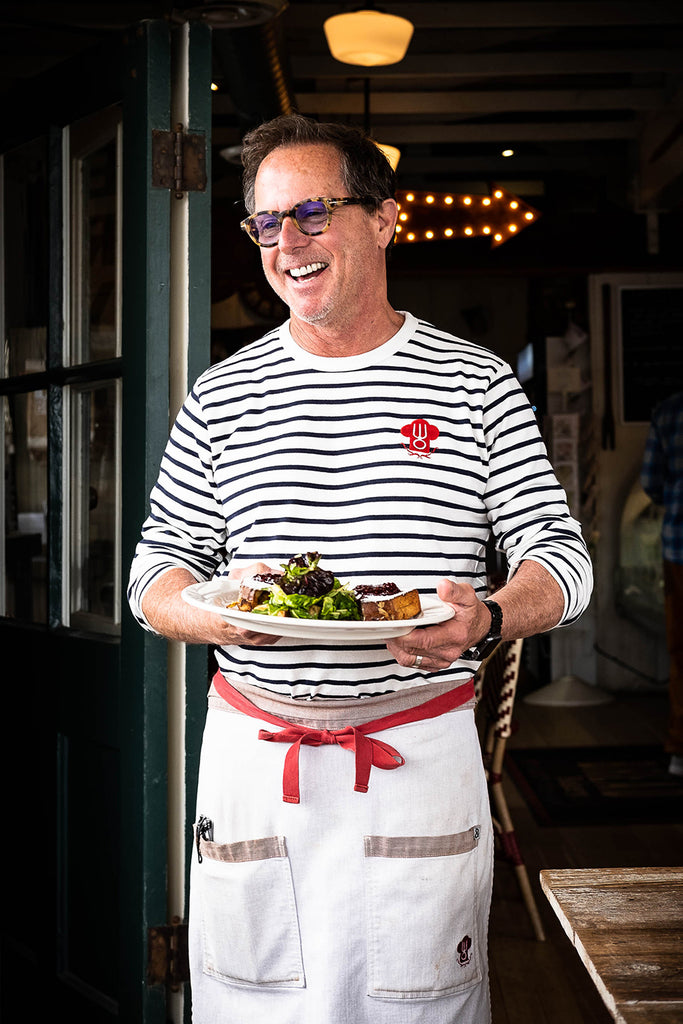 https://www.westjetmagazine.com/story/article/los-alamos-food
Meet the people, and discover the food, of Los Alamos.
 
July 23, 2019 - by Sara Samson
People wander into Casa Dumetz Wines, a wine bar in Los Alamos, and are cheerily greeted, mostly by name, by owner Sonja Magdevski, a petite blonde woman in a denim dress and cowboy boots. Magdevski buzzes around the eclectic space—the walls are lined with old, black and white family photos, hand-painted signs and plenty of wine bottles—refilling glasses with one of her signature Rhone varietals or a multi-varietal blend, while she chats with guests and wipes tables. If she doesn't know your name, you'll be greeted with, "Come in! What are you drinking?"
This hospitable vibe isn't exclusive to Magdevski, it's typical of the genuine friendliness found in all of the eateries and tasting rooms in Los Alamos, a surprising food mecca on California's central coast, where everyone is greeted by name, a bear hug or an exclamation point.
Some of Casa Dumetz's patrons live in nearby towns, while others have made the nearly three-hour journey north from Los Angeles or from Santa Barbara (about an hour away). Then there are those who have simply stumbled into this tiny town on their way somewhere else. They become so enamoured with its Old West buildings and laid-back atmosphere, that they stick around and are pleasantly surprised to find world-class cuisine, extraordinary wines, diverse restauranteurs and a distinctly cool vibe that suggests the discovery of somewhere truly special.
Tucked away in the north end of the picturesque Santa Ynez Valley, a growing wine region on California's central coast, Los Alamos was founded in 1876 as a stagecoach town by the Pacific Coast Railroad. Today, with a population of about 1,600, it is a mere seven blocks long, with most businesses lining the town's main stretch, Bell Street.
Los Alamos still boasts much of its original architecture, including the 1880 Union Hotel and the Los Alamos General Store, but the buildings have since been reimagined and repurposed, as chefs and entrepreneurs from across the United States have made their way to the area to set up shop.
The people who are making this town home bring with them their years of experience and diverse backgrounds, and have been quietly transforming this town, and the entire valley, into a must-visit destination. Some were lured by the area's many farmers and winemakers, there are more than 100 wineries in the area and four distinct viticulture areas, while others grew up in the surrounding area, moved to the city and are now coming home to raise families or simply embrace a slower pace of life. And they stay for a similar reason: the area's beauty.
Magdevski, who is the head winemaker for Casa Dumetz, and shares a space with Babi's Beer Emporium (which she also owns) and taqueria Valle Fresh, came to town about eight years ago from Los Angeles and promptly fell in love. "The second I looked over the Santa Ynez Valley, I was mind-blown. It was so beautiful," she says.
The area's rolling hills, laid-back lifestyle and relative solitude have drawn many others.
Clark Staub, owner at Full of Life Flatbread, and a former vice-president of marketing for Capital Records in Hollywood, arrived in town nearly two decades ago and is a pioneer of the culinary scene. "It's been so awesome to watch this town grow over the past 16 years. It's been such a trip," he says.
There's a simple dreaminess to his restaurant, which is located inside a rambling building that resembles a barn, with its twinkle light-lit gardens and patios spreading across the property. Like all of the restaurants in the area, this spot is all about local, handmade food. As the name suggests, wood-fired pizzas, pulled straight from a massive hearth, are where Staub's cooking really shines, as they come topped with unique ingredients such as ember-roasted pasilla peppers, pistachios, and serrano and garlic salsa.
Mouth-watering creations are surprisingly typical on menus throughout town. Over at Pico, housed inside of the town's original general store, the dishes are anything but basic.
Celebrated chef and co-owner Drew Terp brings a quirky edge to his menu of upscale comfort food, with dishes such as tempura oysters, beef tataki served with salted potatoes, mojo verde and a cured egg, and a nightly "mystery" ice cream made from all kinds of wonderful and weird combinations.
Pico opened in 2016 by winemaker Will Henry and his wife, Kali Kopley. Henry was originally looking for a tasting room for his winery, Lumen Wines, but he found the perfect space in Los Alamos and decided to open a full restaurant. "Los Alamos three years ago was really quiet still, but it seemed ready to take off," says Henry.
A few doors down, Bob's Well Bread Bakery, is where anyone in the area will tell you to go for the best breakfast. Here, the bread is baked in small batches, and the café's display counters are filled with golden, flaky croissants and pastries, and hearty loaves of doughy goodness. Bob's spin on avocado toast, loaded with toasted pumpkin seeds, is something you'll crave long after you're home.
After 30 years in television, as the president of marketing for Sony Pictures, Bob Oswaks was looking for a change, so he studied bread-making in San Francisco.
"I became obsessed and passionate about it," he says. "I thought, maybe the universe is telling me to do this. Life isn't about doing the same thing over and over."
Having owned a home in the valley for 20 years, Oswaks chose to open his bakery in Los Alamos in 2014. "Everyone here is approaching their business with intention and authenticity," he says.
Indeed, there's a palpable passion to this collective group of restauranteurs, which has likely led to success in their respective businesses. And, with easy access to the Central Coast's bounty, they have no shortage of high-quality fresh produce and meat to work with.
With its high concentration of farmers and winemakers, this region feels similar to parts of France, explains chef Daisy Ryan, who co-owns Bell's, a French bistro, with her husband, Greg.
Given this comparison, the pair—who previously worked at big-deal restaurants across the United States, including Per Se in New York City—devised a concept that was approachable and affordable for locals, and kept them coming back. The result is a menu loaded with French fare such as moules frites, steak tartare and snails with garlic and butter.
Having grown up in the Santa Ynez Valley, it was a natural choice for Daisy to return so that she and Greg could raise their son, Henry, closer to family.
They aren't alone. A new generation is moving into the area and younger residents are returning home to embark on new endeavours.
"This is where we were meant to be," says Daisy. "Part of our future is creating culture and a community here."
---
Where to Go Beyond Los Alamos
There are six distinct towns in the Santa Ynez Valley offering plenty of activities. Here's what to do.
With more than 40 tastings rooms, this tiny town is the perfect place to taste what the region has to offer. Stolpman Vineyards is known for its Syrahs and for L'Avion, a rich white made with Roussanne grapes.
The streets of this town, founded in 1911, are lined with Danish farm-style architecture housing cafés, tasting rooms and plenty of shops where you'll find everything from Christmas ornaments to clogs.
The Oscar-winning film Sideways was filmed here, and fans can pick up a map from the Buellton visitors centre and take a self-guided tour of the attractions featured, including OstrichLand and The Hitching Post II.